Taylor Simmons
She/her
Instructor
Difficulty
You can find an excuse or you can find a way.
What kind of music can we expect to hear?
Honestly a little bit of everything – My music taste can range anywhere from EDM beats to pop throwbacks depending on the day!
What's on repeat on your playlist right now?
What does fitness mean to you?
Sports and physical activity were huge passions of mine growing up, and fitness still remains a huge part of my identity. It is what led me to pursue an education in kinesiology (the study of human movement) in my undergrad. It really opened my eyes to how important physical activity is not only for your physical health, but also for so many other domains of your health and well-being. Exercise for me has always been about moving my body to feel my best mentally and perform my best physically on a daily basis. As a former varsity athlete, I often continue to challenge myself to break my own personal limits and reach new goals whether its spinning, running, swimming, etc. Although I am competitive with myself, exercise for me is also a practice of self-care; taking the time everyday to do something for myself. Group fitness has also allowed me to form incredible friendships with like-minded individuals, and gain a strong sense of community!
What is your class like as a GIF?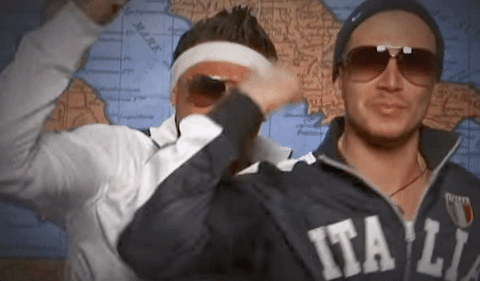 What kind of vibe do you create within your class?
Intense, but fun! I want riders to show up to challenge themselves, but also not take class too seriously. My goal as a coach is to motivate riders to work hard, break out of their comfort zones to see what their bodies can do, and leave feeling empowered. I also want everyone to have fun during class – vibe out to the music, sweat a lot, and really enjoy moving your body! Whether you have had a good or bad day, I hope riders know they can show up to my class exactly how they are and know that it is enough. I truly am rooting for every single one of you ALWAYS on and off the bike.