Abby Murrin
She/her
Instructor
Difficulty
Whether you think you can or you think you can't, you're right. And you can never have enough pickles.
What kind of music can we expect to hear?
A little bit of hip, a little bit of hop, and a lot of fun tunes. We're talking ABBA to ASAP Rocky, come get a little wild with me!
What's on repeat on your playlist right now?
What does fitness mean to you?
Listening to your body and moving in ways that make you feel good! Perfection is a myth, so exercise in ways that bring you joy. 
What is your class like as a GIF?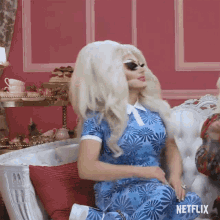 What kind of vibe do you create within your class?
I want everyone to forget about being perfect or being the best, and focus on having fun! Let's have a good time, get a good sweat, and have a few laughs along the way.